Cities in the Guangdong-Hong Kong-Macao Greater Bay Area gathered at a forum during the China Hi-Tech Fair (CHTF) 2019 on Nov 13 in Shenzhen.
Government officials from nine cities in Guangdong province, including Guangzhou, Shenzhen, Zhuhai, Dongguan, Zhongshan, and Foshan, as well as Hong Kong and Macao participated in the forum.
Representatives, such as scholars, experts, and outstanding entrepreneurs from home and abroad, also attended the forum.
The forum was themed around "Invigorating the Greater Bay Area through Opening-up and Innovation," the same as this year's CHTF. It was expected to explore the further development of the Greater Bay Area.
Cao Dahua, deputy director of the Guangdong Provincial Development and Reform Commission, said that Guangdong will make full use of its advantages in innovation, and work together with Hong Kong and Macao to build an international technological innovation center.
Cao added that he hopes that the forum can make full use of CHTF 2019 to deepen cooperation and communication in technological innovation in the Greater Bay Area.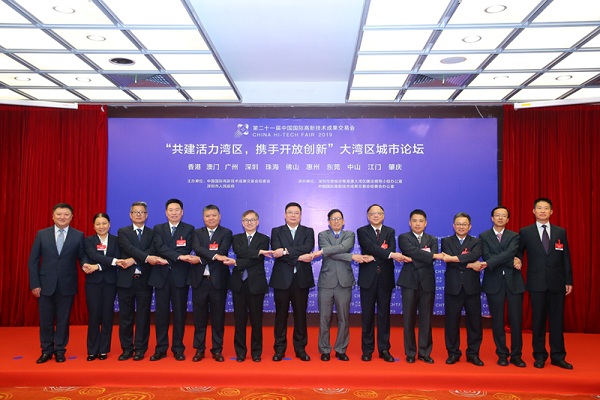 Cities in the Guangdong-Hong Kong-Macao Greater Bay Area gather at a forum during CHTF 2019 on Nov 13 in Shenzhen. [Photo/chtf.com]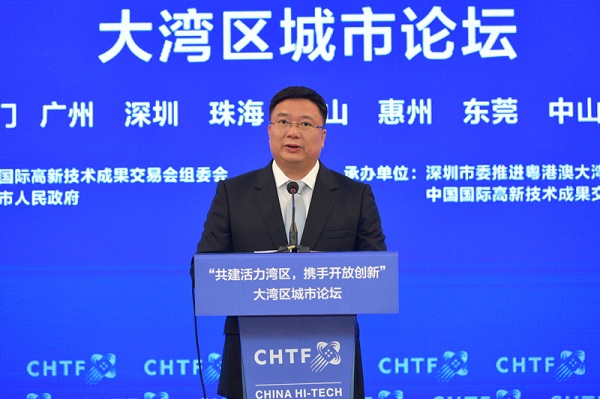 Cao Dahua, deputy director of the Guangdong Provincial Development and Reform Commission, delivers a speech during the forum. [Photo/chtf.com]