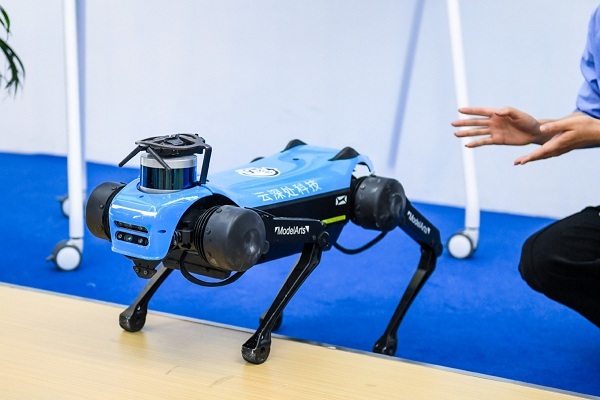 A robotic dog is seen at the 22nd China Hi-Tech Fair held in Shenzhen, South China's Guangdong province, on Nov 11, 2020. [Photo/Xinhua]
The 22nd China Hi-Tech Fair kicked off on Wednesday in South China's tech hub Shenzhen. With a total exhibition area of more than 140,000 square meters, this year's CHTF attracted more than 3,300 domestic and overseas exhibitors.
With exhibitions held both online and off, this year's CHTF will display the latest achievements in biomedicine, smart healthcare, online education, new retail and other emerging industries. It will also show new types of businesses empowered by 5G, smart sensing, mobile payment, blockchain and shared manufacturing.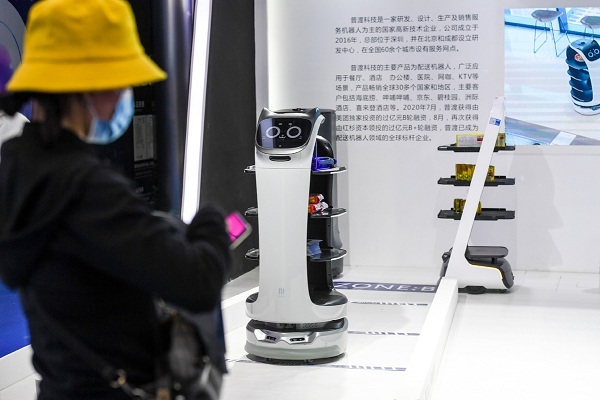 A delivery robot is seen at the 22nd China Hi-Tech Fair held in Shenzhen, South China's Guangdong province, Nov 11, 2020. [Photo/Xinhua]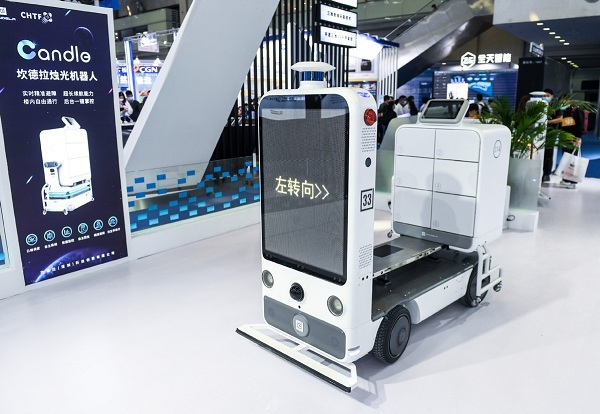 A delivery robot is seen at the 22nd China Hi-Tech Fair held in Shenzhen, South China's Guangdong province, Nov 11, 2020. [Photo/Xinhua]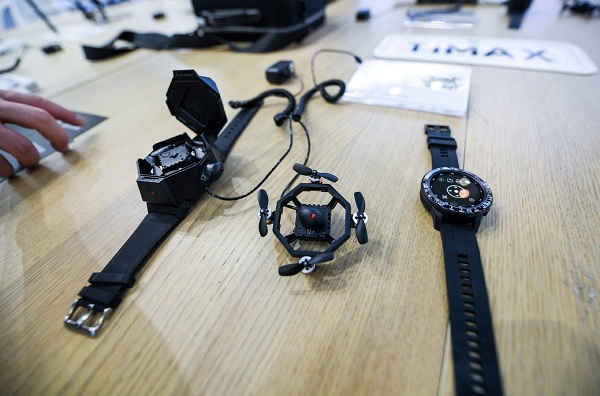 A watch-sized drone, which can recognize gestures to control its camera, is displayed at the 22nd China Hi-Tech Fair held in Shenzhen, South China's Guangdong province, Nov 11, 2020. [Photo/Xinhua]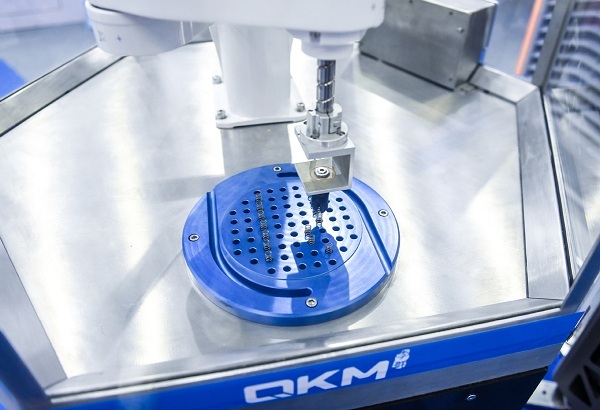 A robot picks springs during the 22nd China Hi-Tech Fair held in Shenzhen, South China's Guangdong province, Nov 11, 2020. [Photo/Xinhua]
Visitors take a look at drones at the 22nd China Hi-Tech Fair held in Shenzhen, South China's Guangdong province, Nov 11, 2020. [Photo/Xinhua]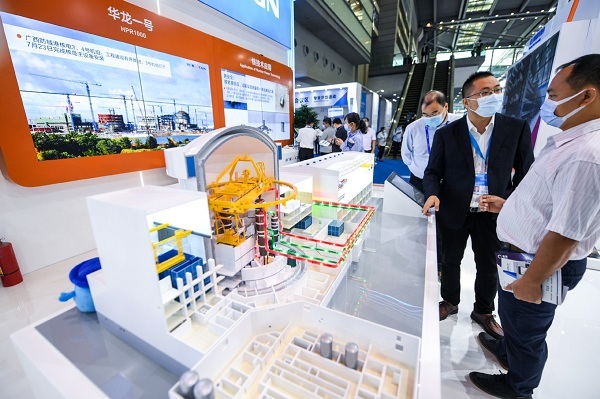 Visitors take a look at Hualong One nuclear power technology at the booth for China General Nuclear Power Group, Nov 11, 2020. [Photo/Xinhua]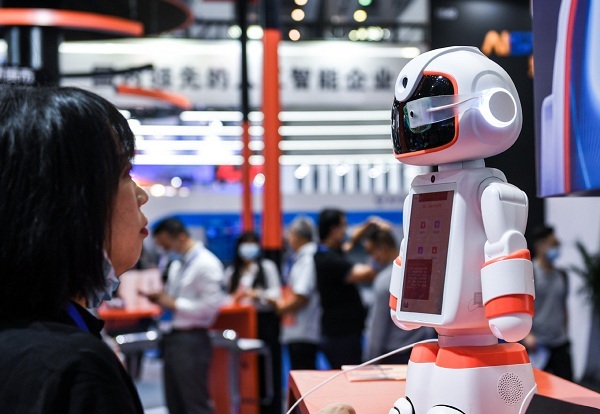 A visitor looks at a robot designed for opening accounts at the 22nd China Hi-Tech Fair held in Shenzhen, South China's Guangdong province, Nov 11, 2020. [Photo/Xinhua]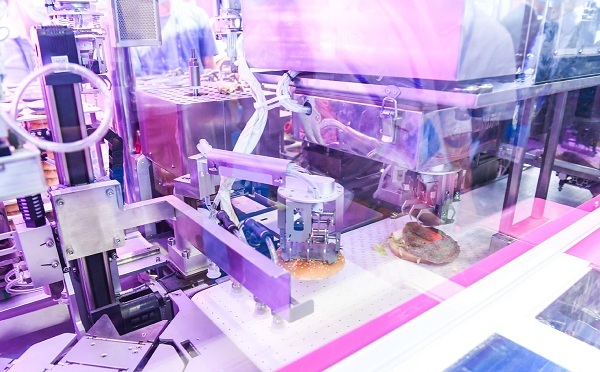 An automatic hamburger-making robot is seen at the 22nd China Hi-Tech Fair held in Shenzhen, South China's Guangdong province, on Nov 11, 2020. [Photo/Xinhua]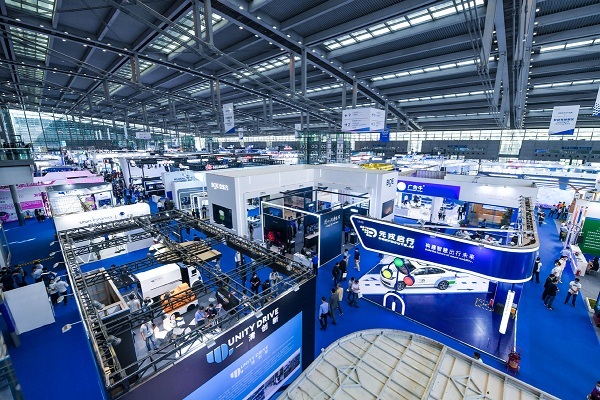 The 22nd China Hi-Tech Fair in Shenzhen, South China's Guangdong province, Nov 11, 2020. [Photo/Xinhua]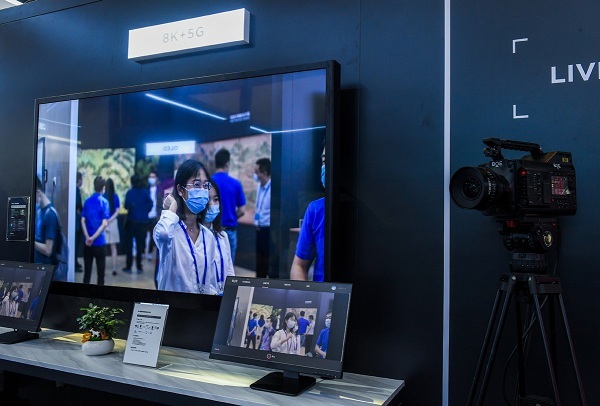 A visitor experiences 8K live streaming via 5G network at the 22nd China Hi-Tech Fair held in Shenzhen, South China's Guangdong province, Nov 11, 2020. [Photo/Xinhua]