The Construction Science & Technology Innovation Exhibition at the 23rd China Hi-Tech Fair (CHTF) - taking place on Nov 17-21 at the Shenzhen Convention & Exhibition Center's No 2 Hall, in Guangdong province - is now open for registration.
The exhibition is an important part of the CHTF, regarded as one of the most eye-catching brand exhibitions of the major fair.
This year's exhibition will showcase the latest building products, technologies and applications. These will be in fields like green construction, intelligent buildings, assembly techniques, green building materials, construction of epidemic prevention and integrated houses, as well as the utilization of construction waste, among others.
The "Green Home" exhibition area will be set up to visualize living and working scenarios in green buildings, through the integration of green building advanced technologies and products.
In addition, technical forums and various matchmaking activities will be carried out to facilitate efficient exchanges and communications, along with release events for new products and new technologies.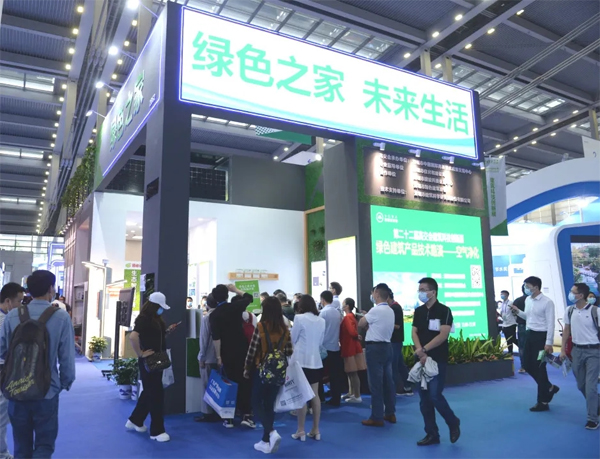 The Green Home exhibition area at the 22nd CHTF. [Photo/WeChat account: szchtf]
Stand prices at Construction Science & Technology Innovation Exhibition
1. Net stall: 1,630 yuan ($250) per square meter
2. Standard stall: 1,793 yuan per sq m
(The standard booth comes equipped with the boards of company names, display shelves, two daylight lamps, carpets, two folding chairs, one table and one outlet.)
Contacts
Organizer: Shenzhen Convention and Exhibition Center Management Co
Address: Office 1113, No 1 Hall, Shenzhen Convention & Exhibition Center, Fuhua Third Road, Futian district, Shenzhen, Guangdong province
Tel: +86-755-82848781/sws@chtf.com (Ms Song), +86-755-82848952/gp@chtf.com (Mr Gao), +86-755-82848857/sjx@chtf.com (Mr Shen), +86-755-82848836/fanyg@chtf.com (Ms Fan)
Co-operator: Shenzhen Green Building Association
Address: Room 613, Shenkan Building, Shangbu Middle Road, Futian district, Shenzhen
Tel: +86-755-23931865, +86-13827419664 (Mr Chang)
E-mail: szlx003@vip.126.com