The Advanced Manufacturing Technology Exhibition at the 23rd China Hi-Tech Fair (CHTF), which will take place from Nov 17-21 at the Shenzhen Convention & Exhibition Center's No 9 Hall in Guangdong province, is now open for registration.
This year's exhibition will be divided into four exhibition areas, namely the advanced manufacturing laser exhibition area, the intelligent manufacturing area, the industrial robot area and the industrial internet area.
It will showcase the latest products, technologies and solutions in fields such as intelligent equipment, industrial robotics, smart factories, laser products, as well as industrial internet.
In addition, technical forums and various matchmaking activities will be carried out to facilitate efficient exchange and discussions, along with release events for new products and new technologies.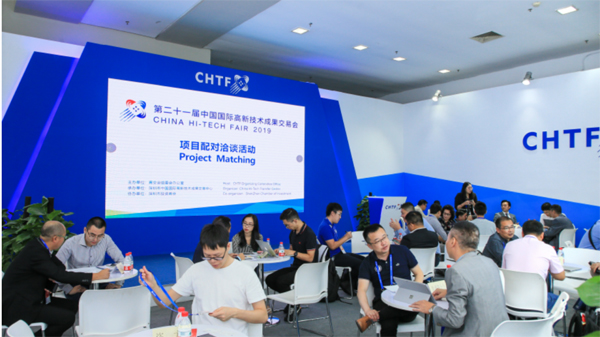 A project matching activity is held at the 21st CHTF in 2019. [Photo/WeChat account: szchtf]
Stand prices at Advanced Manufacturing Technology Exhibition
1. Net stall: 1,630 yuan ($250) per square meter (no less than 36 sq m)
2. Standard stall: 16,137 yuan per stall
(Each standard stall is 9 sq m in size and will be equipped with boards featuring the company names, two daylight lamps, carpets, two folding chairs, one table and one outlet.)
Contacts
1. Advanced Manufacturing Laser Exhibition
Guangdong Laser Industry Association
Address: Third floor of A Zone, No 123 Furong Road, Bao'an district, Shenzhen, Guangdong province
Contacts: +86-755-82129237/shaohuo@laserfair.com (Shao Huo)
2. Intelligent Manufacturing Area
Shenzhen Chuangming Exhibition Co Ltd
Address: Room 613 Yintong Commercial Building, Yunfeng Road, Longhua district, Shenzhen, Guangdong province
Contacts: +86-755-23938025/+86-13510905486/1965737616@qq.com (Lei Ming)
+86-755-23938716/+86-18938923791/2268365561@qq.com (Ms Fu)
3. Industrial Robot Area
Contacts: +86-755-23938025/+86-13510905486/1965737616@qq.com (Lei Ming)
+86-20-39344209/39387677 (Wu Jingjing)
4. Industrial Internet Area
Shenzhen Association of Internet of Things
Address: Room 1706 Feiyada Technology Building, Nanshan district, Shenzhen, Guangdong province
Contacts: +86-15019494578/2609420368@qq.com (Liu Chang)