The Innovation and Scientific Research Exhibition, which will take place at the 23rd China Hi-Tech Fair (CHTF) from Nov 17-21 at the Shenzhen Convention & Exhibition Center's No 8 and No 9 halls in Guangdong province, is now open for registration.
The exhibition is being organized by provinces, autonomous regions and municipalities, Hong Kong, Macao and Taiwan, universities, research institutions, innovation centers and incubation centers to display relevant scientific and technological innovation achievements based around specific themes.
It is an important platform for the promotion of industry-university-research exchanges and cooperation, and for advancing the industrial application of scientific and technological achievements.
This year's exhibition will showcase the latest scientific research achievements in fields such as high-end manufacturing, new materials, new-generation information technology, life sciences, low carbon, the marine economy, the digital economy, and the industries of the future.
In addition, technical forums and various matchmaking activities will be carried out to facilitate efficient exchange and discussions, along with release events for new products and new technologies.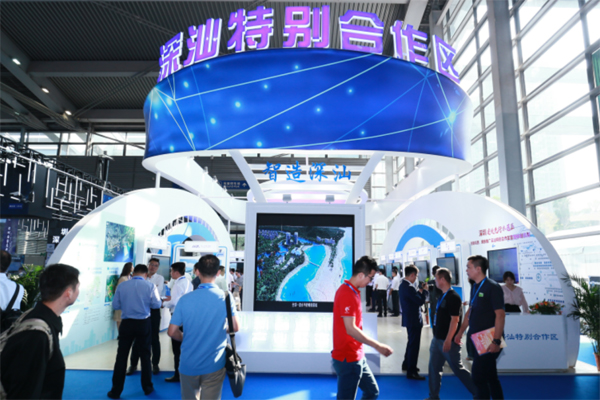 The Shenzhen-Shanwei Special Cooperation Zone shows off its scientific research achievements at the CHTF. [Photo/WeChat account: szchtf]
Stand prices at Innovation and Scientific Research Exhibition
1. Net stall: 1,630 yuan ($250) per square meter (no less than 36 sq m)
2. Standard stall: 16,137 yuan per stall
(Each standard stall is 9 sq m in size and will be equipped with boards featuring the company names, two daylight lamps, carpets, two folding chairs, one table and one outlet.)
Contacts
Dong Shuzhong: +86-755-82848892
Yao Lei: +86-755-82848785
Li Mengting: +86-755-82848894
E-mail: chtf_cxky@126.com
(Independent participants can contact the CHTF organizing committee through the aforementioned telephone numbers and e-mail. Those seeking to participate in the local government's exhibition group should contact the local initiating unit.)