In recent years, China's new infrastructure - including 5G, the industrial internet and data centers - has been developing rapidly.
But what is the potential of this new infrastructure? Is new infrastructure a challenge or an opportunity? Where is the focus of new infrastructure and new technology? The answers to these questions, and many more, could be found at the China Hi-Tech Forum, part of the China Hi-Tech Fair (CHTF) 2020.
Hou Yunchun, former deputy director of the Development Research Center under the State Council, said that new infrastructure is an engine driving new economic growth, even in the context of the negative impact that COVID-19 has had on the economic development of countries around the world.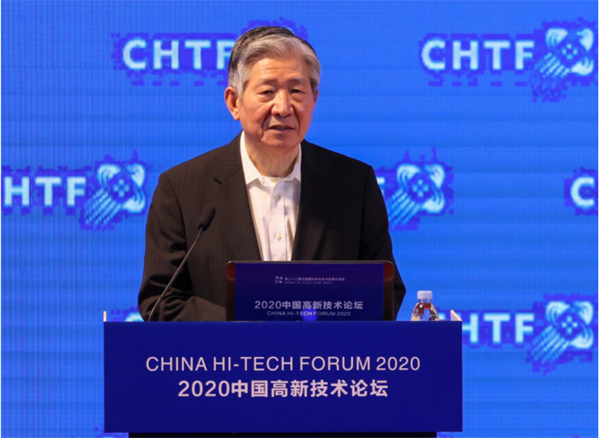 Hou Yunchun at the 2020 CHTF. [Photo/WeChat account: szchtf]
Chen Shiqing, member of the National Academy of Engineering in the United States, talked about the focus of new infrastructure from the perspectives of technologies and application scenarios.
"5G brings fast communications, fast data sources and fast data collection, but it can't form an application scenario on its own. So the industrial internet came into being, which brings together different companies and users," said Chen.
However, the industrial internet is also not enough, noted Chen. It needs big data to collect statistics to form new application scenarios, as well as brain science, artificial intelligence and network supercomputers to make these new application scenarios useful for people's lives and businesses.
"There are many differences between new infrastructure and traditional infrastructure. New infrastructure mainly refers to infrastructure construction and facilities based on science and technology," said Mao Zhenwei, vice general manager of Jusda Supply Chain Management.
The formation of information infrastructure makes it possible to upgrade and transform digital supply chains, and the digital upgrading of supply chain technology can be implemented in order to empower core manufacturing enterprises and truly improve quality and efficiency, added Mao.
As an important part of CHTF, this year's China Hi-Tech Forum will be carried out from Nov 17-21 at the Shenzhen Convention & Exhibition Center in Guangdong province.