The Hi-tech Startups Exhibition at the 23rd China Hi-Tech Fair (CHTF), which will take place on Nov 17-21 on the second floor of the Shenzhen Convention & Exhibition Center in Guangdong province, is now open for registration.
The exhibition is the CHTF's special public welfare exhibition area, and will be hosted by the Shenzhen Chamber of Investment. Its aim is to offer startups investment and financing services through a series of activities at the CHTF and on the chamber's own service platform.
All kinds of tech startups, established within the last five years in fields like smart homes, the internet of things, epidemic prevention, robots, mobile internet, communication technology, data security, 3D printing and scanning, virtual reality, industrial design, new energy and new materials, can sign up for the exhibition.
Project pairing and negotiation activities will provide one participant quota for each exhibitor at the CHTF's financing training meeting and financing road show, and exhibitors will have priority at the road shows.
In addition, awards like the Most Promising Technology Enterprise and the Best Innovative Technology Project will be handed out.
The deadline for registration is Aug 5, 2021.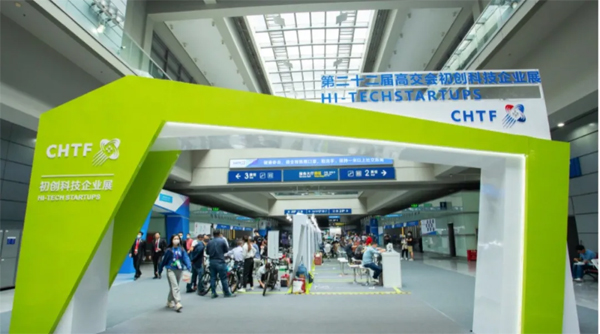 The Hi-tech Startups Exhibitionat the 22nd CHTF in 2020. [Photo/WeChat account: szchtf]
Registration requirements
The registered enterprise shall not infringe the intellectual property rights or other rights of any other party, and the content shall comply with applicable laws and regulations;
The registered enterprises should take the company as the unit to register;
The registered enterprises shall ensure that at least one person will be on duty at the booth during the CHTF.
Registration processes
Contact the organizer, fill in the "Registration Form for CHTF Hi-tech Startups Exhibition in 2021", and send it to the email address: ccz@szci.org.
Shenzhen Chamber of Investment
Ms Li: +86-13418540699
Ms Xu: +86-13946461302
Tel: +86-755-25831636-813
E-mail: cckj_qyz@sina.com
Fax: +86-755-25831606