1. Galaxy may be teeming with alien life
A series of 20 papers published on the physics pre-print website arXiv showed that the basic chemical conditions that led to life on Earth could be more widespread throughout the galaxy.
Large organic molecules were found in protoplanetary disks around a newly formed star, and a similar disk once surrounded the sun to form the planets that now make up the solar system.
2. Chinese scientists develop new liquid metal artificial muscle
Scientists from the University of Science and Technology of China proposed a liquid metal artificial muscle (LMAM) based on electrochemical methods to change the surface tension of liquid metal to mimic muscle contraction and relaxation, providing a new alternative for the application of flexible actuators in such fields as micro-electro-mechanical systems and biomedicine.
3. Homegrown Shidaowan reactor reaches success
The No 1 reactor at the Shidaowan nuclear power plant in Shandong province, and the world's first industrial-scale demonstration plant with a high-temperature gas-cooled reactor and pebble-bed module, which is considered relatively safe, reached its critical stage of success on Sept 12, according to its operator, China Huaneng Group.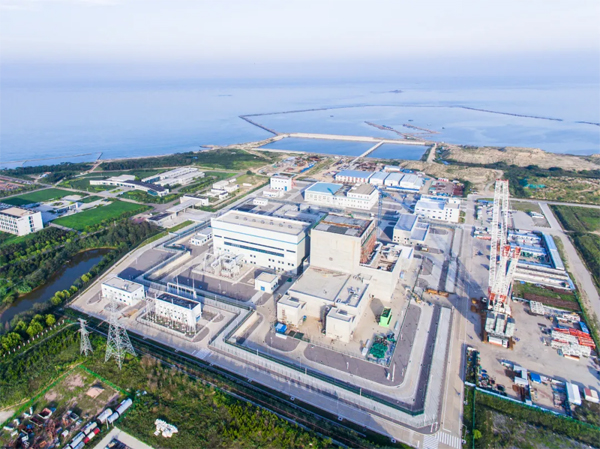 The No 1 reactor of Shidaowan nuclear power plant in Shandong province reaches its critical stage of success on Sept 12. [Photo/WeChat account: szchtf]
The reactor has been fully developed by China with independent intellectual property rights. It completed fuel loading on Aug 21 and hopes to finish its grid-connected power generation within this year.
4. New progress made in nanopore-based sequencing of polypeptides
A research team at Nanjing University constructed the polypeptide-DNA chimeric chain by using nanopore dislocation sequencing technology. By combining a DNA sequencing enzyme with DNA, they drove the ratchet movement of polypeptide molecules in the nanopore through the movement of DNA, thus breaking the technical bottleneck of nanopore sequencing of polypeptides.
Relevant research results were recently published in the Nano Letters journal.
5. China's first radioactive waste glassification facility operational
China's first plant immobilizing radioactive waste in glass has been officially put into operation in Guangyuan, Sichuan province on Sept 11, according to the China Atomic Energy Authority.
The plant can convert liquid nuclear waste with a high-level of radioactivity into a solid glass form suitable for long-term storage and disposal. China is one of the few countries globally to have mastered this technology.