Climate change is one of the biggest challenges of our times. China has set goals to peak carbon emissions by 2030 and achieve carbon neutrality by 2060.
The Environmental Protection and Energy Exhibition at the 23rd China Hi-Tech Fair (CHTF), which will take place from Nov 17 to 21 at the Shenzhen Convention & Exhibition Center in Guangdong province, will contribute to the country's carbon-neutral targets.
This year's exhibition will gather relevant applications in line with the development trend of the environmental protection and energy industry as well as serve green life and green development.
Bangbituo (Shenzhen) Technology has been committed to providing full solutions for waste classification and ecological transformation, and has contributed to environmental protection by reducing, recycling and making harmless kitchen waste. It will showcase its new-type kitchen waste treatment products at this year's CHTF.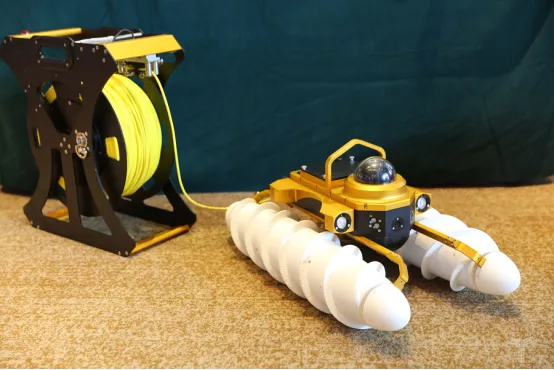 Pipeline maintenance equipment is to be exhibited by Bominwell Robotics at this year's CHTF. [Photo/WeChat account: szchtf]
As a provider of services in urban sewerage and drainage, water environment treatment and environmental modification, Shenzhen-based New Ground Environmental Technology will bring its smart water management and control platform, water treatment equipment and water treatment technologies to this year's exhibition.
The CCTV pipeline inspection robots and QV high-definition wireless periscopes will be exhibited by Bominwell Robotics, which aim to solve the pipeline maintenance problems of trenchless inspection industries and in special environments.
Shenzhen Doctor Rain Rainwater Recycling is a high-tech enterprise focusing on water collecting systems. Its rainwater comprehensive treatment system will also be exhibited at this year's CHTF and has a goal of transforming the city into a sponge city to make the city more flexible in adapting to environmental changes and coping with natural disasters caused by rain as well as effectively alleviating the urban heat island effect.