Due to the epidemic, the Russian delegation will bring 59 high-tech institutions, universities and innovative companies to the China Hi-Tech Fair (CHTF) 2021 digital exhibition. Its scale has reached its largest in history since its first debut in 1999.
During the CHTF 2021, the Russian delegation will showcase its cutting-edge technologies and innovative strengths across the board, covering robotics, new materials, artificial intelligence, IT, sports and health, biomedicine, VR/AR, network devices, energy saving and environmental protection, and other popular fields.
Astrakhan State University's marine multi-purpose unmanned platform (MMUP) as well as its REC "MorRobotSystem" will be presented at the CHTF 2021 in the form of three robots: a mono-hull version, a catamaran, and a trimaran. In addition, Moscow Power Engineering Institute will present an autonomous mobile robot that solves the problem of monitoring the technical condition of cable equipment.
In biomedicine, the Institute of Experimental Medicine has developed molecular and cellular approaches that can be used to identify and study the immunopathogenesis of severe viral infections. Scientists from the Department of Biotechnology and Veterinary Medicine at Orel State Agrarian University have developed new effective preparations for the treatment of mastitis in cows to better clean cow teats after milking as well as for the treatment of necrotic limb diseases in different animals.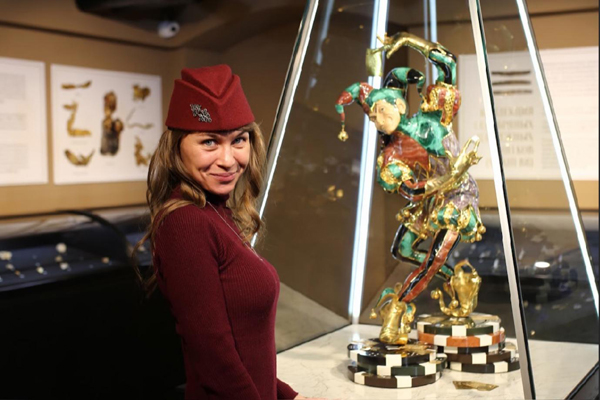 [Photo provided to chinadaily.com.cn]
The Institute of Economics at the Urals Branch of Russian Academy of Sciences will present "Innovative technologies in stone-crafting art." One of the company's first big projects was the 1-meter high "Golden Joker" (2017) sculpture. The piece was described as a breakthrough in the stone cutting and jewelry industry.
Minin University, Penza State University, South Urals State University, Tula State Tech University and several other well-known higher education institutions will also be exhibiting at the CHTF 2021. Scientists from Far Eastern Federal University have modernized methods for producing supercritical carbon dioxide extracts from Panax ginseng and Inonotus obliquus, which can create a unique and specialized nutritional product for athletes who use natural supplements. Bauman STU will present "Composites of Russia," which aims at the development and implementation of new materials, digital twins and artificial intelligence.
In recent years, China-Russia cooperation has been deepened and has increased by leaps and bounds. As a high-tech exchange platform, the CHTF has not only promoted the technical exchanges between China and Russia, but also created a broad market space for exhibitors.