In recent years, technological breakthroughs such as the combination of artificial intelligence and machine intelligence and human-computer interaction have been paving the way for the development of medical technologies.
At this year's China Hi-Tech Fair (CHTF), a variety of rehabilitation robots will be exhibited, bringing much convenience to patients.
Shenzhen-based MileBot Robotics will showcase its leg exoskeleton robot, BEAR-H1, at the IT Exhibition of this year's CHTF. The robot is the world's first exoskeleton robot that adopts a flexible actuator as its power output, aiming to provide rehabilitation training for patients with lower limb motor dysfunction caused by neurological diseases such as stroke.
The robot has active and passive training modes, and can effectively reduce the working intensity of therapists, improve the efficiency of rehabilitation training and promote the reconstruction of patients' neural circuits.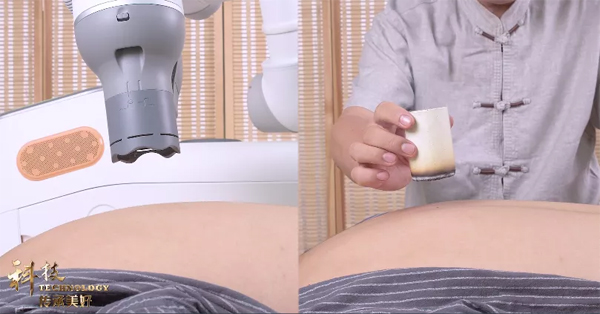 A comparison of moxibustion by robot (L) and expert. [Photo/WeChat account: szchtf]
The smart rehabilitation robot brought by South China University of Technology to this year's Innovation and Research Development Show uses psychological big data and an artificial intelligence algorithm to identify patients' psychological state and motor abilities.
It can assist patients in rehabilitation training and, by using augmented reality (AR) technology, add a sense of fun.
ASAGE ROBOTS (Zhuhai) Co will bring its moxibustion robot to this year's event, which offers at least four moxibustion methods and a variety of common combination therapies.
In the process of moxibustion, the robot will also play professional therapy music to achieve a better treatment effect.