The Polish Investment and Trade Agency (PAIH) and the Consulate General of Poland in Guangzhou are promoting the Polish new tech sector during the 23rd China Hi-Tech Fair (CHTF), which kicked off on Dec 27 in Shenzhen.
Thanks to the dynamic development, innovative approach, highly qualified specialists and stable economy, the Polish IT/ICT market brings an attractive outlook to foreign investors. In 2020, Poland was ranked the highest in the CEE region and the seventh in Europe in terms of the number of foreign direct investments.
All Polish companies participating in the CHTF embody values and ideas of the Polish new tech sector. Even though their business models are very different, they all offer the highest quality of products and services.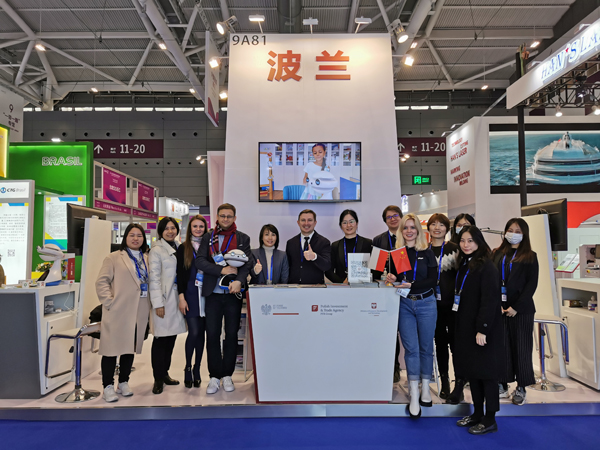 Poland promotes its new tech sector during the 2021 CHTF in Shenzhen. [Photo provided to chinadaily.com.cn]
TME is a global brand that distributes electronic and electrotechnical components, workshop equipment and industrial automation solutions. Smart warehouses are their trademark, and as they grow bigger, they still believe that the individual approach to the clients' needs is the key to success.
Piwik Pro provides a wide range of modern cloud and data analytics solutions allowing companies unrestricted access to their data and streamlines business operations to make them more modern based on a post-COVID era model. Its convenient data analysis system converts data into reports and KPI, allowing tasks' mapping and predicting employees' performances. While doing all this, Piwik Pro doesn't allow any data to be handled by a third party or sold, guaranteeing cybersecurity and privacy at the highest level possible.
The intralogistics sector is proudly represented by LeanTech. They design, build and apply mechanical and electrical systems and automotive solutions that support modern transportation, weight-lifting and create complete warehouse units. They also deliver and build entire production and assembly lines.
Sunway provides fun custom-made software for VR and MR educational programs. VR/MR Educational Immersive Games and VR STEM Courses are not their only products, the company also specializes in EPR solutions in distribution and retail needs alongside robotic and industrial automation.
Emys is a producer of breakthrough educational robots for children. Their creative software and sophisticated design of the robot allow for exceptional interactive capabilities. Children are able to learn English in a variety of fun ways, participate in arts and crafts activities, discover the world through stories, and also learn life lessons like caring and friendship.