More than 510 patents are currently on display in a 325-square-meter exhibition area at the ongoing China Hi-Tech Fair (CHTF) in Shenzhen, Guangdong province.
The exhibition is hosted by the China National Intellectual Property Administration and is showcasing patents in the fields of electronic information technology, biomedicine and medical devices, artificial intelligence, aerospace, high-end equipment manufacturing, and new materials.
One of the exhibitors, AfterShokz, brought its independently developed bone conduction headphones to this year's CHTF.
"AfterShokz has participated in the CHTF for more than 10 years. The event has showcased the development of the enterprise," said Wan Jingchun, IP director of AfterShokz, adding that the CHTF has provided a platform to display, share and exchange their patented products.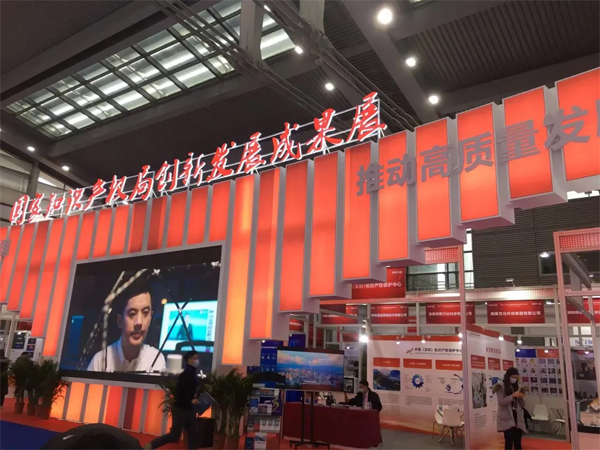 The innovative development achievements exhibition, which is hosted by the China National IP Administration at this year's CHTF, is currently on display. [Photo/WeChat account: szchtf]
Shenzhen BASiC Semiconductor is also attending the event and is displaying its silicon carbide power device products, which have more than 50 patents. The products can be widely applied in such fields as new energy, electric vehicles, smart grid, rail transit, and industrial control.
"We hope that more potential customers will learn about our technology and products at this year's CHTF," said a Shenzhen BASiC Semiconductor spokesperson.
LifeTech Scientific Corporation is displaying four self-developed products. The company's LAmbreTM Left Atrial Appendage (LAA) Closure System, which can be used to prevent stroke caused by thrombosis in the LAA due to nonvalvular atrial fibrillation, has applied for 110 patents and won the 22nd China Patent Gold Award. The product has been applied in hundreds of hospitals and medical centers in more than 40 countries.
Shenzhen Lenkeng Technology is showcasing its uncompressed ultra HD video transmission technology, which debuted this year. The technology can be used in areas like medical treatment, transportation, high-end manufacturing, public security, radio and TV, and entertainment.
In addition, three IP service agencies like the China (Shenzhen) IP Protection Center were also invited to the exhibition to share innovative achievements in IP public services and provide professional consultation and follow-up service guidance.