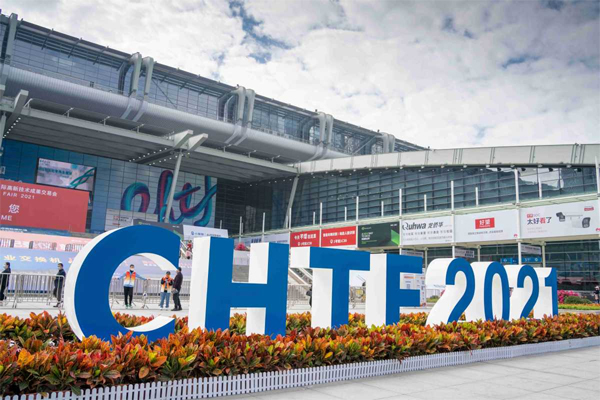 China Hi-Tech Fair 2021 kicks off in Shenzhen, Guangdong province on Dec 27, 2021. [Photo/IC]
Inside a booth in an exhibition hall at the Shenzhen World Exhibition and Convention Center, Jiang Zhuyang and his colleagues explain to a crowd how AfterShokz headphones, which feature bone conduction technology, work to better protect user safety during sports while providing a quality listening experience.
As an exhibitor at the annual China Hi-Tech Fair 2021, which kicked off in Shenzhen, Guangdong province on Monday, Shenzhen Shokz Co Ltd, the developer of Aftershokz headphones, has participated in the technological event for years.
"From a very small booth at the beginning to one covering 150 square meters this year, we have been growing together with the event," said Jiang, general manager assistant of the company.
"The fair provides a very good platform for us to expand our customer base and enhance our branding. Also, we can get in touch with a number of upstream suppliers through the event, helping us improve the supply chain."
Earlier this year, Shokz was awarded by the Ministry of Industry and Information Technology as a national-level "little giant"-leading small and medium-sized enterprises that specialize in niche sectors and boast core technologies.
Sales of the company grew 50 folds from 2015 to approximately 1.1 billion yuan ($173 million) last year. It has obtained more than 1,100 patents globally, of which half are patents for invention, Jiang said.
Shokz is among a number of "little giants" that have participated in the CHTF this year. As China strives to achieve high-quality development by supporting such SMEs to play a leading role, the expo has become an important platform for promoting their growth.
This year's CHTF adopts a hybrid form, with the offline part running from Monday to Wednesday and the online portion lasting till Friday. More than 1,900 Chinese and overseas enterprises are showcasing their latest technological development virtually.
Shenzhen Aerogel Technology Co Ltd is another national-level "little giant", specializing in development of environmentally friendly aerogel-made materials which can be applied in construction, new energy vehicles, consumer electronics, textiles and other fields.
"Participation in the CHTF is a quick and effective way to help us realize the transformation of scientific and technological achievements. The fair serves as a bridge between technology owners and those who have commercial and market resources. Through the collaboration, we are able to give better play to our technological strength and widen its application," said Cheng Xiaokun, director of customer services at the Shenzhen Aerogel.
"It also offers an opportunity for us to reach potential investors, facilitating the fundraising process that is vital to our future development."
Cheng said the company generated roughly 200 million yuan in sales this year. "We aim to increase our revenue to at least 300 million yuan next year," he said.
The government should offer greater support to help more Chinese high-tech enterprises sharpen their technological edge and become "little giants" in their respective fields, with measures including favorable policies on financing, tax and talent, said Cao Zhongxiong, director of the New Economy Research Centre at China Development Institute, a national think tank based in Shenzhen.
The CHTF can play an active role in fueling their growth, said Cao, who also suggested launching more special exhibitions featuring "little giants" in the future to let them be known to more in the market and help them set up better links with the capital market to solve funding difficulties.