Billed as China's largest tech exhibition, the 23rd China Hi-Tech Fair is themed around advancing high-quality development and fostering a new development pattern.
It attracts world-famous enterprises such as Huawei, ZTE, Shenzhen Investment Holdings, and prestigious universities, such as Peking University and Tsinghua University.
The fair features new-generation information technology, new energy, new materials, high-end equipment, new energy vehicles, smart cities and energy conservation.
The CHTF 2021 goes both physical and digital, which includes exhibitions, forums, roadshows, matchmakings, and business networkings.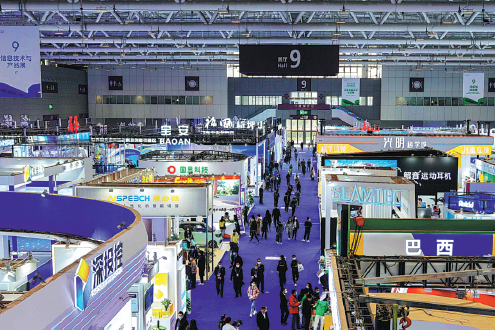 This year's CHTF focuses on high-quality development. CHINA DAILY
The CHTF 2021 Physical displays tech advancements presented by the China's Ministry of Commerce, Ministry of Agriculture and Rural Affairs, National Intellectual Property Administration, Chinese Academy of Sciences and Center for International Economic and Technological Cooperation of Ministry of Industry and Information Technology. Nine Chinese provinces and 14 Chinese renowned universities are exhibiting their latest tech products and services at the fair.
Enterprises from 25 countries are displaying online, while delegations from 11 countries including Belgium, Brazil, Poland are exhibiting in person at Shenzhen World Exhibition and Convention Center, bringing their most innovative products.
The CHTF 2021 Digital gathers numerous technology-related companies, universities and institutions from around the world.
The Makers Area showcases the creative products and projects by innovative teams and individuals such as college students. Representatives of makerspaces and bases for innovation and entrepreneurship are also invited to the exhibition in a bid to facilitate communication and help turn creative ideas into reality.
The China Hi-Tech Forum 2021, as an important part of the annual event, has invited nearly 50 experts and executives of leading technology companies to share their opinions on high-quality development and the new development pattern.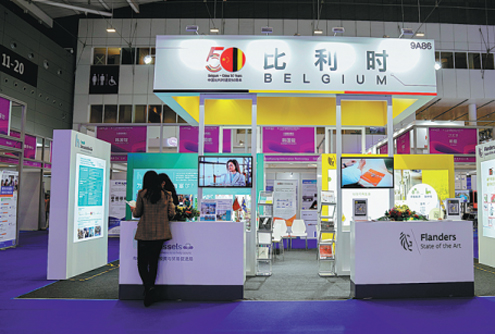 Belgium's booth at the event. CHINA DAILY
The key speakers are Wu Hequan, an academician of the Chinese Academy of Engineering, Xue Qikun, an academician of the Chinese Academy of Sciences and president of Southern University of Science and Technology, and Zeng Yi, general manager of China Electronics Corp.
Business networking events include business-to-business meetings, product and technology launches and business salons etc.
One highlight of the fair is Behavior Atlas, a spatio-temporal decomposition framework for automatically detecting behavioral phenotypes developed by the Shenzhen Institute of Advanced Technology at the Chinese Academy of Sciences.
The system helps the study of the evolution of movement sequences for higher-order behavior and behavioral state transition caused by neural activity.
It has been used on animals such as rats, dogs and monkeys, and has been used in trials on epilepsy patients.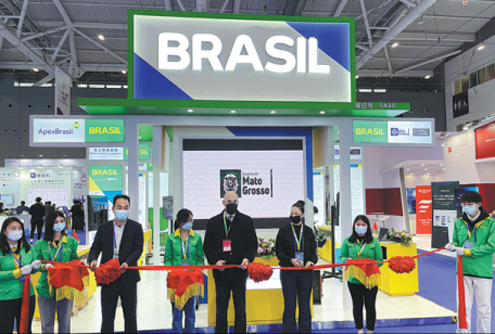 Representatives attend the opening ceremony of the Brazilian Pavilion at the 23rd China Hi-Tech Fair in Shenzhen, Guangdong province. CHINA DAILY
After 40 years of development, Shenzhen has become a world-renowned hub for innovation, Jian Zheng, deputy director of the Shenzhen commerce bureau, said at the opening of the forum.
"We will give full play to the role of the whole-process innovation ecological chain, continuously strengthen basic research and research into key technologies, and accelerate the industrialization of research outcomes.
"Steps will also be taken to further the integration of technology and finance, attract innovative talent, foster advanced manufacturing clusters, and strengthen international cooperation in science and technology, so as to build Shenzhen into a globally influential capital for innovation, creativity and entrepreneurship," Jian said.
The CHTF provides an important platform for Shenzhen to actively integrate into the global scientific and technological innovation network, and serves as a bridge for promoting international cooperation in science and technology, according to Jian.