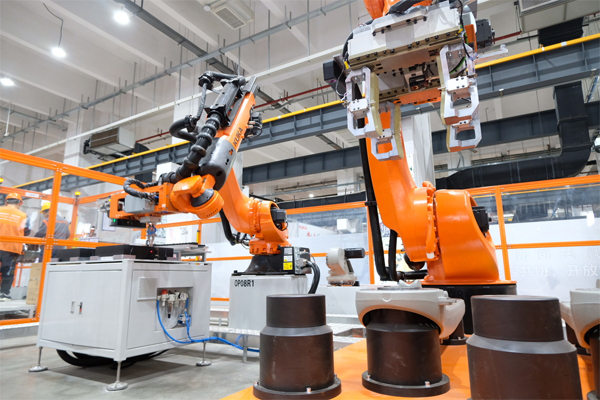 A production line of "robots making robots" is launched in Foshan, Guangdong province, in January. [Photos provided to chinadaily.com.cn]
At a smart manufacturing industrial park in Foshan, Guangdong province, a production line appears to be a scene commonly viewed in sci-fi movies, as an orange robot arms itself to assemble a gray semi-finished robot by turning screws on its chassis.
With the construction and adjustments of processes and technology done, the production line launched in January has become the park's latest cutting-edge facility. It uses robots to make robots and was jointly built by Chinese home appliances maker Midea Group and its German robotics and automation partner Kuka AG.
"There is time for us to get off work, but for the production line, there is not," said Chen Feng, director of operations and human resources of Kuka's China unit.
The 35-meter line, with an investment of about 20 million yuan ($2.94 million), was independently developed and manufactured by Kuka, helping to greatly improve the efficiency of robot production, Chen said.
Equipped with 12 working robots and six automated guided vehicles (AGVs), it has become the first robot assembly line to use robotics for manufacturing in Guangdong and also the first fully automated line in China that produces heavy-load robots.
"Labor intensity has been greatly reduced and the humans work as assistants on the production line," Chen said.
Compared with traditional workforces, the single shift capacity of the automatic production line increased by 50 percent and production efficiency has increased by more than 30 percent per hour, according to Chen.
Midea and Kuka commenced construction of the joint smart manufacturing industrial park, located in Shunde district of Foshan, in early 2018, with a total investment of 10 billion yuan. The park covers an area of approximately 800,000 square meters.
Construction of the park's second phase will be finished this year, according to sources with Midea.
"We hope to build a new replicable, fully automatic robot production line to help boost high-quality industrial development for the local economy," the director said.
China's industrial robot market has seen a new peak in applications, with vigorous development in new energy vehicles, consumer electronics, biomedicine and other industries.
Orders for Kuka's industrial robots soared in January and the delivery efficiency of robots also increased thanks to the launch of the production line, Chen said.
"An increase of 30 percent year-on-year in orders will be achieved in the first quarter, with more robots being used in the NEV and lithium battery industries."
Additionally, ABB Group opened its mega robotics factory in Shanghai in early December, which is expected to further enhance the Swiss tech firm's presence in the Chinese market.
The $150 million, 67,000-square-meter factory complex includes production and research facilities, and uses ABB's digital and automation technologies to manufacture next-generation robots, according to the company.
With China entering a new era of green and innovation-led growth, the country's further reform and opening-up will attract more global high-end manufacturers to step up the transformation of traditional industries with their smart solutions, said Wang Wen, executive dean of the Chongyang Institute for Financial Studies, which is part of the Renmin University of China.